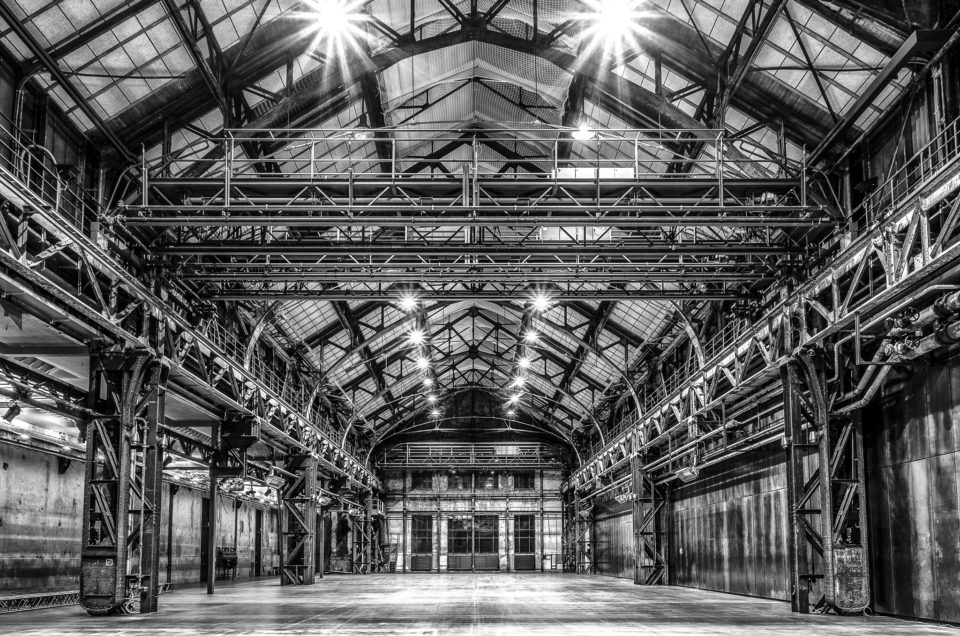 A few weeks ago we did a light painting in the Jahrhunderthalle in Bochum (Germany). I took the photo during the preparation for the shooting and it shows only a part of the very big hall. Enclosed some informations about the "Hall Of The Century – Jahrhunderthalle".
The Jahrhunderthalle (Hall of the Century) is the former gas and power station of a steel mill built at the turn of the 20th century. With the closing of the mill, the plant was renovated and turned into a three-hall concert and event site with an industrial ambiance.
The steel construction of the 1902 part of the building is particularly remarkable because it was not designed primarily from an aesthetic point of view, but rather from an engineering point of view, and is thus one of the first examples of purely purpose-designed architecture. Since it was already certain during the construction that the hall would not remain in Düsseldorf, it was built in such a way that it could be completely dismantled again. On some of the steel girders in the hall you can even read the lettering that was attached there for the Düsseldorf exhibition. The main nave of the original hall is 66 metres long, 20 metres wide and 21 metres high, the side aisles are 6.5 metres wide and 6 metres high. The façade was designed as a Gothic church in memory of Jacob Mayer's first successful attempts at steel casting in 1851, as the first successfully cast products were bells. The 70 meter high bell tower with a ringing of three bells was not rebuilt in Bochum later. The façade in Bochum has also not been restored in this form.
It is also remarkable how the hall was founded. Since the premises of the Bochumer Verein were already completely built up in 1903 and therefore no coherent area was available, the hall was built over the existing buildings necessary for production and the ground level was raised. In the accessible basement, the foundations of the hall girders are still visible today, namely brick pyramids rising from the "cellar floor" (the former ground level). On the floor below the hall there is even one of the former buildings; the window openings with balustrade, facade etc. can still be seen, although the house was later completely bricked with fireclay and served as a stove.
The text is based on excerpts from the German Wikipedia
---
---